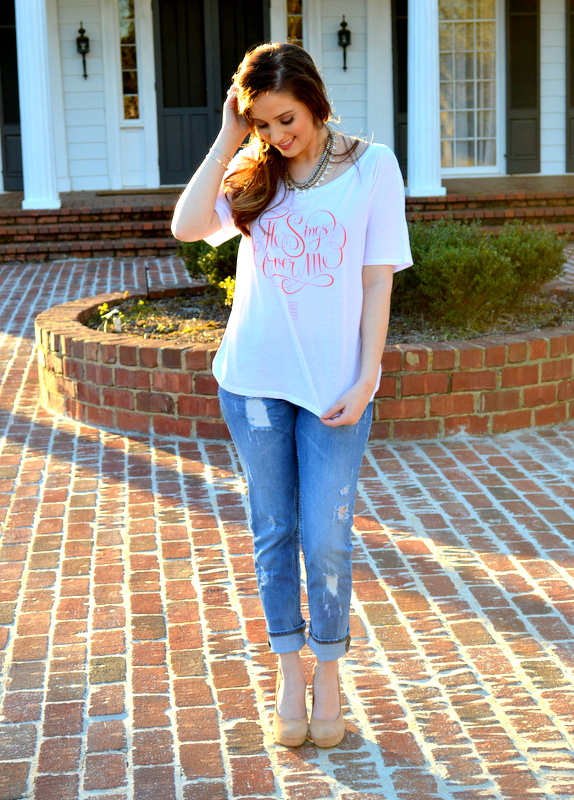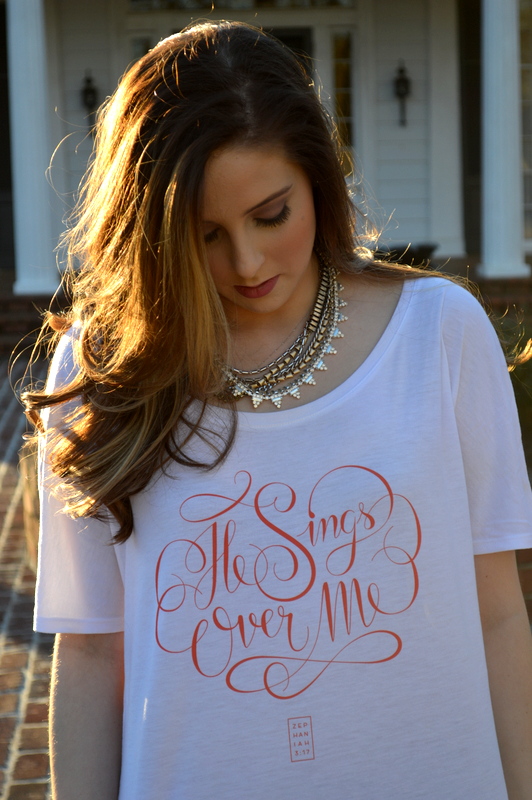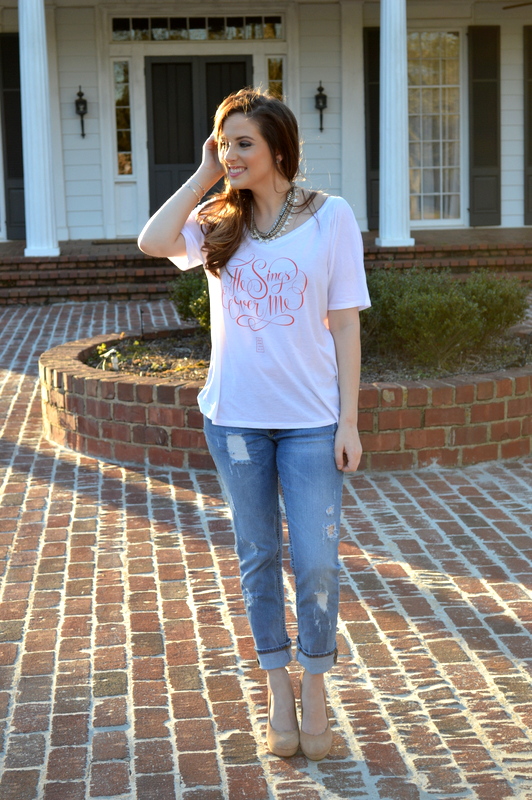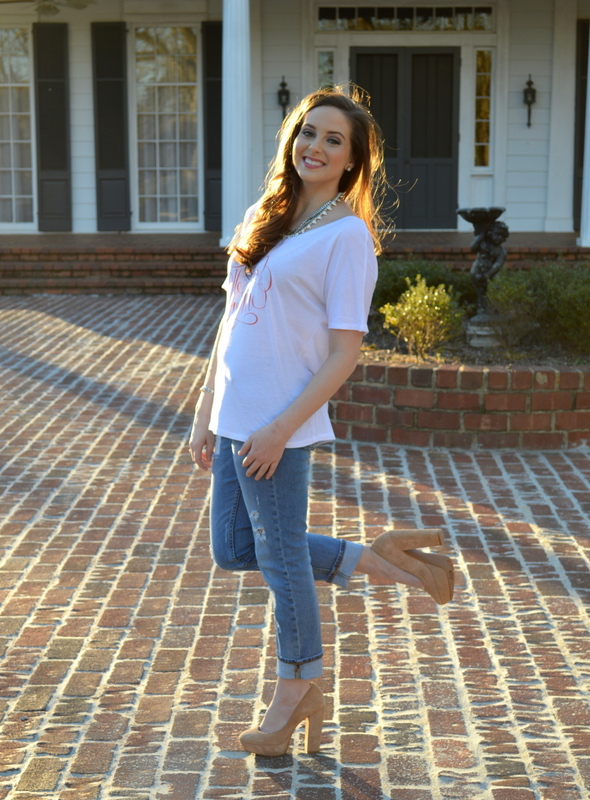 Outfit details - "He Sings Over Me" Shirt: 139Made // Jeans: Anine Bing (sold out) similar here // Earrings: Stella and Dot // Necklace: Stella and Dot // Shoes: Gianni Bini (old) but similar here // Lipstick: Marc Jacobs
Hey Lovelies!! I am so excited to share this post with you all today. Who am I kidding I'm excited to share every post with you guys but today is a special one because of the heart of the woman behind this special christian apparel brand. My dear friend Inka is the founder and graphic designer of the Christian clothing line called 139Made, based in Houston, Texas. "I launched 139Made in the beginning of March last year because I wanted to create well-designed relevant graphic shirts for fellow believers, and also to help raise awareness on human-trafficking issue. Houston is one of the major hubs for human (sex) trafficking in our country. I was really shocked when I first heard it, since I thought it only happens in third-world countries. For the past 2 years, God slowly put a burden in my heart to do something about it, however small, using my abilities. So I decided to start 139Made clothing line. It is inspired by Psalm 139, as it was impressed on my heart when I prayed about the trafficking victims and survivors. They are His beloved, fearfully and wonderfully made. And because of that, no one should be enslaved in any form or manner. Psalm 139 is God's declaration of His love and a charge for us to fight for their freedom." -Inka
What a beautiful heart and calling the Lord has given to Inka. And how faithful is she to carry it out! You all know how passionate I am about raising awareness about and fighting against human trafficking so when the Lord led me and Inka to connect I was incredibly joyful!
This "He Sings Over Me" Tee is a super soft and flowy tee manufactured by a sweatshop-free, Worldwide Responsible Accredited Production Certified company. (AND it was printed right here in the USA!!) The inspiration for this design is Zephaniah 3:17. "The Lord your God is with you, the Mighty Warrior who saves. He will take great delight in you; in his love he will no longer rebuke you, but will rejoice over you with singing." - How AMAZING is that, that the Savior of the world loves to sing songs over you and me?! Can you picture that? Sometimes when I feel unimportant or discouraged it is so comforting to dive into scripture and read about how just how much the Lord delights in me! In my sinfulness I don't even deserve to enter into his all-knowing and all-seeing mind but because He has ransomed me and has called me as His own I not only enter his mind for a brief moment but am always on His mind and His heart and the Lord delights in singing songs over me - His beloved! I obviously love this shirt for many reasons, the story and heart behind the company's founder and graphic designer - Inka, the awareness on human-trafficking that her company spreads, the reminder through scripture of just how much my Lord and Savior loves me, and the incredible design and softness of this shirt! I can wear it as an everyday tee or dress it up a bit with some jewelry and some pumps - Literally making a fashion "statement." A statement of just how great our God is!
I hope you all enjoyed this post and I hope you will all visit 139Made and find a tee that speaks to you! Until February 12, 10% of 139Made's sales will benefit Compassion First - a Christian relief organization providing life-giving solutions to survivors of child sex-trafficking.